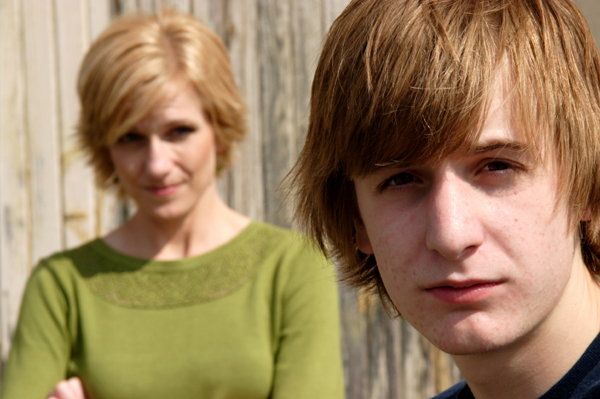 If you have children, you know that being a parent is one of the hardest jobs out there. It's not easy knowing that how you raise your child now will determine the type of person they will be as they grow older and what type of contribution they will make to society. This job is hard enough with a complete family but single parenting is even harder. Single parenting of teens is very difficult.
It's not easy to be the parent of a teenager and when you are doing it alone as a single parent,
it is even harder. There may be times when you wish there was just someone there to tell you what to do or to help you through it. No matter what the situation, it always helps to have someone to talk to that has been there or that understands what you are going through.

You will be happy to know that you are not alone and there are many other parents out there going through the same thing. You also do not have to go through this alone. You can find support from other single parents. This is a great way to meet other people, share stories and advice and just have general support so that you do not feel so alone.

There are different types of support groups out there. You may look in your area and you can also look online. There are groups for parents of teenagers, groups for single parents and specifically groups for single parents of teens. When you find these groups and sign up, you can spend some time getting to know the other people and you will have a support network outside of your immediate family and friends. You will have people who know how you feel and people that understand the situations you are going through.
Deal With Teenagers As a Single Parent
Engage any support network, friends, or family you may have. First, if you know and trust the parents of your child's friends, ask them for help. That doesn't mean you expect them to take on your parental responsibilities, but to assist you in fulfilling them better. For example, if you have to work late, they might agree to feed your child dinner and give them a safe environment in which to do homework. You can pick your child up on the way home and return the favor to these parents by having their child stay overnight at your house on a weekend when they want to go out and need to know where their child is and what they are doing.

Ask sisters, brothers, and grandparents to call and check in on your child if she is home alone. Without interrogating the child, ask them to ask casually what they are doing, whether they have eaten, and if their homework is done. Studies show that even latchkey kids without parental supervision do better in school and socially if they know that there is someone checking on them – someone who cares. A random visit during the afternoon or evening as your brother swings home from work is not a bad idea either. "I'm just stopping by to drop something off for your dad". You can come up with something.

Talk to your child about the fact that you can't be there all the time and let them know what you expect. Ground rules are important. Homework is done first before they play video games, etc. Lock down dangerous websites on your computer. If your child is more computer literate than you are - get a computer literate person at work to teach you how to check and monitor your child's browsing history so you can see where they are going on the internet. Again, let your child know your expectations.

Give your child chores to do to earn money or to earn favors (like going out with friends on a Saturday night) to keep them busy while you are gone. Laundry, vacuuming, walking the dog, making dinner, whatever you need done. Remember, you are a team!

Know your child's friends. As your child matures, they are exposed to more people and their circle of friends may change from when they were in elementary school or middle school. Get to know these kids and if you have a concern about their influence, watch things very carefully and make a move if you must.

Listen and pay attention to your teens. Know what classes they are taking, which teachers they like, which bands they like, who are their favorite teams. Try to relate to your kids without lecturing them. Teens want independence, but they like it when their parents have a clue about what's important to them.


Above all, make time to talk to your child and do things together when you are home. Don't just sit in front of the TV. Go to a movie. Go shopping. Take him out to lunch and talk. Ask questions gently, and don't demand information, but find out what they are interested in now as they grow and mature. Stay in touch. Call from work to chat on a break. Leave notes. Schedule special dinners or outings to do things you both enjoy.



Tips
The biggest problem a single parent has is finding time to do everything that must be done. But, if you grow away from your child during these critical years, you will have a problem. Teenagers have a natural tendency to bottle up feelings and stop communicating as they struggle with new feelings and begin to recognize that you don't "know it all" as a parent.
Balance Work and Parenting as a Single Parent
Being a single parent in today's society is tough. Child support alone doesn't always pay the bills, and many single parents choose to work for their own fulfillment, as well as the needed pay check. But being a single working parent doesn't have to be a crisis if you take steps to balance your work and your family.
Form a network with other single working parents to help support each other, provide childcare assistance and advise each other. You can form your group with other single parents at work or your child's school.

Avoid over-booked mornings by preparing for your day the night before. Pack schoolbags and your briefcase and leave them near the front door, make lunches and set out clothes for everyone.

Spend time together after work and school. Have a snack and talk about each others' day before sending the kids off to do their homework, let your kids help prepare dinner and clean up afterward, watch TV together and read stories before bed.

Set up a cleaning schedule you and the kids can do together over the weekend. Give everyone their own individual chores to do, then reward yourselves by playing outside and having a family barbecue or picnic.

Plan your vacation time from work to correlate with your kids' school vacations so you'll be off together. You can plan a family vacation, or vacation in your own backyard.

Research your child care options for school vacation days, sick days and preschool childcare (see Resources).

Remember to find time for you. Read a book, watch a movie or take a bath after the kids go to bed. You need some quiet alone time to unwind from the day and recharge for the next day.
Single parenting is truly one of the most difficult roles to settle into but it can also be one of the most rewarding. I have been a single parent of five children for eight years.

There are plenty of books written on the subject but nothing can substitute for real life experience. Is there a secret to making single parenting easier? Not really.

It is always a work in progress but there is one word that comes to mind when I reflect on the often rocky road I have traveled over the past eight years: consistency.
Establish a routine that includes "down time" for you (yes, it is possible!). Just fifteen minutes to stop being on the go is sometimes all you need.

Make room for plenty of time just enjoying your children without worrying about housework. When you are a single parent it seems like there are even fewer hours in the day. Make the best of the time you have with your children even if that means your house isn't perfectly in order.

A schedule is essential and planning ahead is a must. If this means spending Sunday in the kitchen with your children preparing some meals for the week ahead, then do it! It is great to involve your children in household duties even if they are small. They love to help and feel important. It also helps to make the "chores" a bit more do-able.

As a single Mom the best time with my children is always dinner time. We always eat together and typically at the same time every night. This isn't always possible with work schedules, but even if you can only do that a few times a week, it is important. My children get my full attention during dinner and we choose a topic of the night. This makes everyone want to stay at the table and enjoy each other. This sounds a little over-glorified perhaps, but it is one of my favorite times of the day, tired or not.

Single parenting can be very stressful. Finding what works best to make it an easier time for you and your children is essential. Find a routine and stick with it. Your children will know what to expect from you and if you enlist their help, they will grow up to be self-sufficient adults.
Ideas for Spending Time with a Teen

When you are an adult it seems that it is almost impossible to come up with ways to spend time with your teenager. It is as though you have nothing in common, and live in two different worlds. With our busy work schedules it's easy to get wrapped up in things and lose track of time and communication.

One way to spend time together is by eating meals together, it's hard to find the time but, sitting down together over a meal can be a great way to accomplish this. It opens the door and gives your teen a chance to tell you about their day in a casual way, with no pressure. You can tell them about your day to help get things started. When your teen does start talking to you, try not to interpret them, this shows them you really care and will encourage them to spend more time with you. Once they have begun to feel comfortable talking to you, they will want to find new ways of being together.

Go out for a leisure drive together, if they have just received a license this will be a good way for them to get practice and give you both a chance to talk to each other. Go out shopping together; let them show you their favorite stores and styles of clothing.

Include your teen in on any home projects you have planned, if you are working together this is a great time to talk and get to know one another better.

Go bicycling or hiking together put a basketball goal in your backyard and spends time together playing each other, teens really love to beat their parents in games.

Choose a day once or twice a month to do something your teen likes to do, and spend that day letting them choose the activities and making the rules. This is a good way to learn each other and create more ways to spend time together, once you get to know each other you may find you have more in common than either one of you thought.