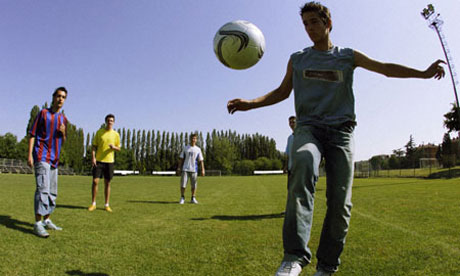 Parenting teen boys is stressful, fulfilling, and very difficult at times. One problem can occur when the parents are emotionally unavailable. Teenage boys have a hard time expressing their emotions. Adolescent's perceptions of each other differ from how parents are identified. Some emotional behavioral problems are caused by the perceptions of parental emotional unavailability. Teenage boys don't think about emotional availability like girls may do.

Over-scheduling teen boys has become the new style. Parents are becoming over- involved in every detail of their teenager. We see teen boys over-enriched in athletics, band, foreign languages, and other after school activities. Although each activity may be valuable on its own merit, in aggregate these commitments leave the child frazzled.

Parenting teenage boys can be overwhelming, especially when the child's environment is over-scheduled. Social scientists have coined a phrase that describes this way of child rearing; it is called hyper-parenting. Professionals observe this hyper-parenting in almost every place they look. These are the parents who are trying to live through their children; most of them have established a wonderful enriched home and extravagant lifestyle. They feel compelled to enrich their boy's life by over-booking them. What happens is the boy becomes so over-booked that he may become rebellious due to the nature of the parent, who forgets that the child needs to be a child, not a super star.

The parent becomes too involved in the child's activities, because they feel that they should give their child all of things that were not available to them when they were a child. Hyper-parenting is not healthy in many ways. Numerous factors show that over- scheduled and sleep deprived teenage boys produce less and have a higher level of anxiety as adults. This kind of behavior is not healthy and can damage their progression into adulthood.

As parents, we should try to teach and promote tolerance. The following are eight ways to learn more tolerance:

Talk about tolerance with your teen

Identify intolerant behavior

Challenge all intolerant behavior

Support your children

Find healthy understandings with each other

Encourage your children to use community resources

Be honest with your children


Be a role model for the behavior you would like to see
As parents we are the primary role models for our children. We need to be consistent in how we treat other people in our community, while being tolerant enough to allow others to be themselves. Teenage boys are looking at things in a critical way; their definitions are expanding.

Try to encourage the teenager to spend more time with their elders, such as their grandparents. This can provide emotional support for the boy and help him to explore his identity. Challenge the teenage boy to be the best he can be at what ever task he is tackling, and provide the emotional support that will help him progress into adulthood.
Teenage Boys: Surviving and Enjoying These Extraordinary Years
Price: $11.19 & eligible for FREE Super Saver Shipping on orders over $25.
You Save: $2.80 (20%)