Dealing with Lazy Teenagers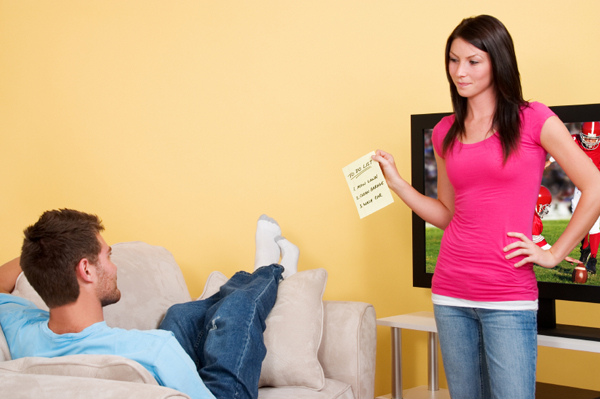 For many frustrated parents, parting the Red Sea might seem more of a possibility than parting the couch from their teenager's rear end. We have entered into an age where video game controller dexterity and cell phone dialing is about the extent of many teens' weekly physical exertion. Recent studies have shown that our country is rapidly producing a generation of kids that are overweight and unexercised. Sadly, parents are often to blame for this problem. In an effort to avoid confrontation, or the desire to make their children happy, many parents actually condition their kids to be lazy. A parent's goal should be to develop a sense of well being within their children by teaching them the importance of being diligent. Let's look at a few good ideas to help you guide your teenager into becoming a responsible, hardworking adult.

Set a limit on video games and television
Let's face it, video games and television are an indelible part of our youth culture today and teenagers are going to spend a fair amount of time pursuing each. However, by placing a specific time limit on these diversions, you can encourage your teen to spend more time developing their own creativity. Suggest different hobbies or sporting activities and be willing to participate if needed.

Give them household chores
Why should parents be the only ones take care of daily tasks at home? Assigning chores is a great way to teach individual responsibility and diligence. Instill a sense of pride by thanking or complimenting your teen when they have done a good job. Let them know the importance of what they do in relation to the family and doing their part to help out. You should also develop a system of consequences for failing to get chores completed.

Spend time with your teen
Most teenagers are too cool to hang out with their parents in public, but despite their actions, they do want mom and dad's attention. Spend time helping with homework, or maybe even taking up the same hobby. Let them know you care about what's going on in their lives without being harsh or critical. Encourage them to express their thoughts and you'll find them less likely to hide things from you.

Hire your teenager for special jobs
Teenagers always need money and many have the insane idea that they are entitled to a certain portion of mom or dad's paycheck every week! You can counter this by offering opportunities to complete special projects around the house as a chance to earn spending money. Is there a room that needs painting? How about a garage that needs to be organized? Give specific goals and only pay when the job is done correctly.
The biggest factor in dealing with a lazy teenager is consistency and communication. Make every effort to continually motivate your teen to have a more active lifestyle through encouragement and support. Do not, under any circumstance, reward or ignore slothful behavior. Parenting is an extremely hard job and only becomes more difficult by failing to instill diligence and developing strong character in our teens. Let your kids know that fun and pleasure come as a result of a good, honest work ethic.
Moticvation For Teenagers
Isn't it great to see a teenager working hard; doing as they are told; keeping with the right company; keen to do homework - even when none is set; always in a book; producing top levels in their SATS and top grades in tests; respectful, helpful and kind; keen to learn at every opportunity; goes out and has fun too, but in moderation; likes music, but will do something useful while listening; and of course, has high expectations of themselves, and good ambitions. This teenager will always put in 100% effort. They achieve the best they could possible do, and they deal maturely and philosophically with problems.

If your teenager and other teens you know are as above then you need read no further. Congratulations!!!!

To the rest of us, I present this challenge!

Motivate Our Teens. Use whatever means possible to motivate teenagers. Get them to increase their productivity. Get them to stop wasting time. Find out why they are not doing three times the amount of work that they presently do.

Intensify their yearning to learn. At least fifty per cent of teens perform below their potential at school. Is this success? Or is this failure. The challenge is for you to get them to be fed up with mediocre performances. Achievement is not just about examination grades and levels, but also the development of other skills such as sport, music, drama, computer skills in depth research, writing and other worthwhile hobbies.

Below are ten points which indicate why a teenager performs below their potential.
Teenagers make limited and narrow demands on their intelligence. They prefer not to stretch their brains too much. Any question which does not present an immediate answer is passed over. It's far easier to respond with " I don't know" than to give a considered well thought out response.

The teenager has low expectations. They really do not expect to achieve very much. They've decided they can only jump so high, and they are happy with that. Contentedness is great, but too many are reaching early adulthood and wished they had been inspired to raise their expectations.

Peer Group Pressure is unfortunately pressuring in the wrong direction. The friends they hang out with have little or no ambitions or goals. Those friends who are studious, might have a slightly different lifestyle, and tend to want to spend time with other academics, with books, and are happy with their own company. Excessive emphasis on entertainment, drinking, money, sex, drugs and petty crime seem attractive to too many teenagers. The golden boy or girl at home or church or other religious organisation can be a tearaway with friends, and the parents do not even know about it. They are looking at you like butter would not melt in their mouth, but you have not heard their language or risqué conversation when you are not around.

Teenagers have no idea about their capabilities. They just do not realise that it is possible to train the brain, to take in more, remember more, analyse and form conclusions. With a look at learning strategies, tremendous strides can be made.

Teenagers muffle their talents because they cannot be bothered to nurture it. Laziness is an issue. The word lazy is an insult, but how can you describe the unwillingness to shift.

Guidance is ignored. Somehow teens think they know best. If they have no desire in the first place, a change can happen, but only if they are prepared to follow guidance given by those who do know. It is a sad fact however that encouragement and help sometimes comes too late.

Fear and worry can prevent concentration and clear thinking. Worries about problems with parents, relationship with friends, bullying. Some students desperately desire to do well because of the high expectation of adults around them. This in itself sometimes produces anxiety in the teenager and can be counter-productive. There needs to be a balance.

The teenager does not care. Disinterest and Apathy are key here. But why is that? Is it ignorance of the consequences of lack of achievement? Or is that the people around them also do not care, or are not encouraging them. It could be that the teen is in a comfort zone - thinking they are doing enough. Some are - but many are not.

The teenager has an attitude problem with respect to authority. They are rude and disrespectful to teachers and parents or to any adult who tries to tell them what to do. This can sometimes be a camouflage for the confusion that exists about requirements for different subjects. The teenager is not able to decipher and analyse the necessary and unique requirements for each examination. They are as good as gold in some environments, and flip in others.

The environment which some teenagers find themselves in is not conducive to learning. There are little or no books in the home or club. They are unaware of the benefits of visiting and belonging to a public library. MTV is far more attractive than News Channels or factual programmes. TV and computer games are the be all and end all of leisure at home. The internet means chat rooms and furtive searches for porn, rather than a positive search for knowledge. Conversations at home are a mixture of grunts, snarls and shouting matches interspersed with pre-occupied silences. School is a battlefield and effectively a youth club, where more often than not, they leave at the end of the day, having learnt nothing new. However, they do know which kid is doing what to whom.

Backtalk: 4 Steps to Ending Rude Behavior in Your Kids
Price: $9.32 & eligible for FREE Super Saver Shipping on orders over $25. Details
You Save: $3.63 (28%)